American artist Nicole Buffett, the granddaughter of Warren Buffett, has announced that she will be the art director at Radio Caca (RACA). Buffett will work directly with rapper French Montana and the RACA development team around the 2D Montega project, transforming Montana's upcoming album, Montega, into a play-to-earn-style 2D metaverse.
I'm excited to collaborate with @FrencHMonTanA and honored to take on the role as Art Director for #2DMontega, @OpenPFP, & @RadioCacaNFT! pic.twitter.com/dyrxwtVBXY

— Nicole Buffett (@BuffettNicole) April 15, 2022
Nicole Buffett is a great artist. Knowledgeable about the cryptocurrency market, she started working on NFTs during the pandemic. For Nicole Buffett, creating NFTs of her paintings, especially during the pandemic when in-person art shows and gallery openings have been a near impossibility, allowed her to expand her circle of buyers globally—a large proportion of them young, entrepreneurial, and tech-savvy. "NFTs are really art as money, art as currency, which means there's more accessibility for artists and for people who want to buy art," she tells Institutional Investor.
"It's great just to have more eyeballs on the work."
Since offering her first NFTs several months ago, Buffett has released four collections. Her most famous collection is her first, "Spirit Coins." Simple and brightly hued, they're paintings that seek to evoke "the way the spirit sits when you are in a circle," she says. "They are about bringing clarity and light to these technology spaces. It's really an ode to ancient practices. They are small and meditative."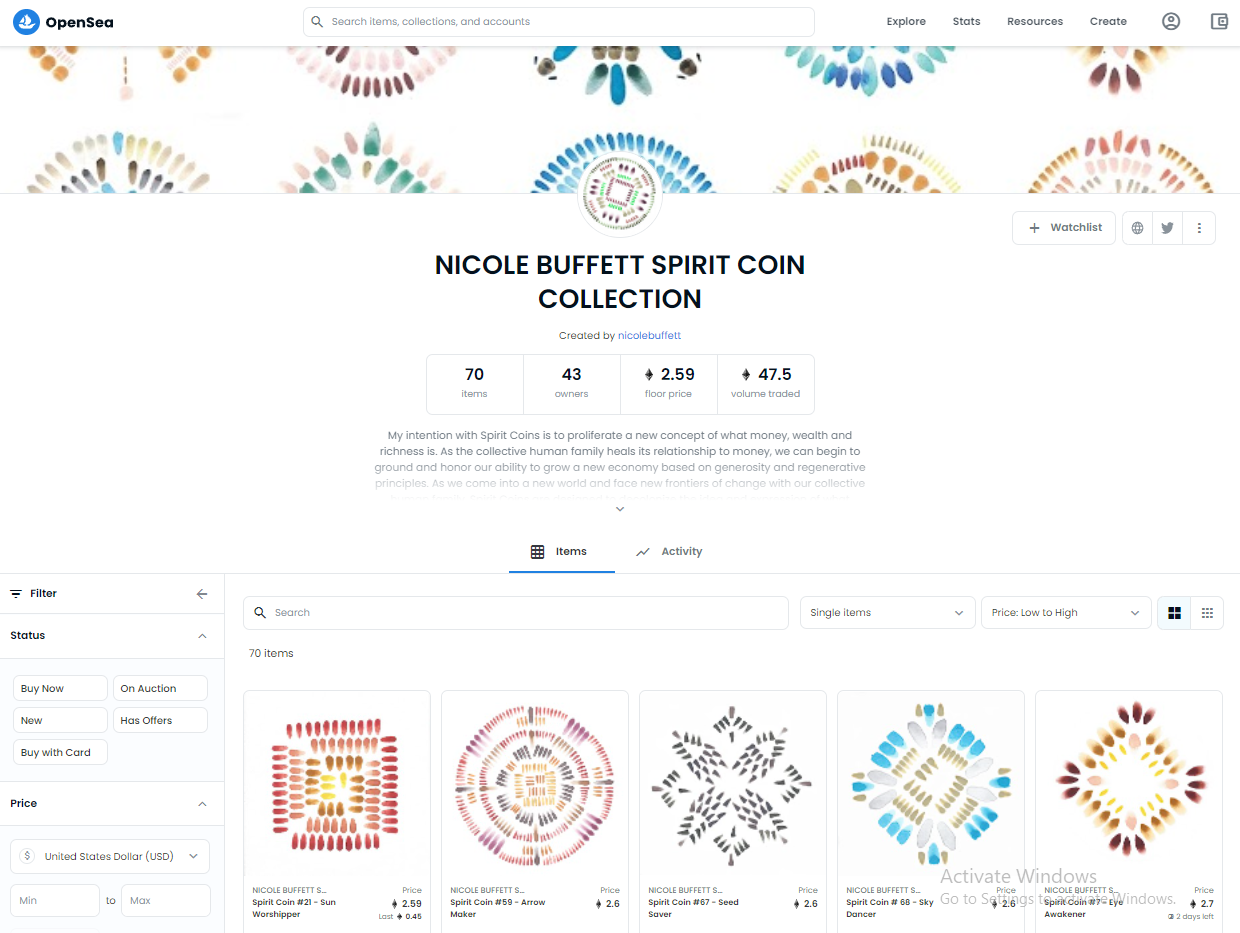 What is 2d Montega
During Miami NFT Week, the event that preceded Bitcoin Miami, which is the largest cryptocurrency event globally, American rapper French Montana announced that his next album would be a non-fungible token (NFT) that will be used within their play-to-earn metaverse.
According to Radio Caca, the metaverse will be a 2D play-to-earn game integrated with Radio Caca's metaverse platforms, specifically Metamon World. The metaverse will be called 2D Montega Metaverse and should be released around July 2022.
Also, according to the artist, the album will come with characters usable in the 2D game.
"It's the first NFT collection that combines music, visual art, games, and the metaverse. NFTs are a big deal for artists. I finally own 100% of my music," the rapper said.
According to the rapper, 10,000 physical copies will also be released with the CD signed by hand. Regarding the metaverse game, $25 million is being invested in its creation.
The developed NFTs will also have different functions and rewards in 2D Montega and Metamon World, both produced by Radio Caca.
Following Montana's announcement, an official publication by Radio Caca on Medium stated that the metaverse would be move-to-earn, where players are rewarded for spending 30 minutes in the game.
About 2D Montega Metaverse, Radio Caca also stated that the game would have NFTs called Kevin badges as the primary token generated from playing.  There will also be NFT houses, cars, and other items that, according to the developers, will be the next investment trend: collecting in the metaverse.
"In the real world, most urban young people become indebted with mortgages for homes and car loans/leases for their cars. Over time, the home needs repairs, and the car gets worn out, tires changed, and eventually a new one—a never-ending cycle of cost and debt. In the Radio Caca universe, holding a house or car for their avatar characters will only grow in value and create a more free future because these houses and cars are assets that can be passed on from generation to generation and that can grow in value," as stated on the recent Radio Caca medium post here.
Metaverse on Ethereum
The metaverse will be built on the Ethereum blockchain and support all smart contracts performed on ERC-721 and ERC-1155. According to the team, if the user has any NFT made in this pattern, it can be integrated and used as a playable item in the metaverse.
NFTs will be used to their full potential in 2DMM, representing all of your assets in the game, be they pets, 2D houses, or various tools. NFTs will even unlock a custom view to experience unique visual effects for any type of NFT."
Going into more detail about the game, the developers reveal that there will be three different stories with three-game views. One million NFTs of 2D houses with varying rarity types between castles, mansions, and villages will be available to interact with these resources. In them, owners can decorate their space, display NFT art, and organize events.
The Kevin Badge NFT will, as one function, be a reward for each user who deposits an NFT from a verified collection in the new 2D metaverse. Any user with a Kevin Badge will have access to airdrops, private parties in the metaverse, and exclusive access to whitelists, among other benefits.
In addition to purchasing them, 2D Houses can also be earned by playing Metamon World.
Disclosure: This is a sponsored press release. Please do your research before buying any cryptocurrency.
The post Nicole Buffett, Granddaughter of Warren Buffett, Will Be Art Director of Radio Caca (RACA) appeared first on NullTX.
Source: null tx