BitKeep Swap total transactions exceeded 5 million. Kevin, CEO of BitKeep, a Web3.0 crypto wallet, tweeted on March 21. According to the latest data released by Consensys: BitKeep, with an average daily swap amount of 20 million US dollars, has become the decentralized wallet that supports most public chains, most tokens/coins in the world with the largest number of cross-chain Swap transactions.
In comparison, the average daily swap amount of MetaMask is 40 million. Unlike MetaMask, which focuses on the Ethereum ecosystem, BitKeep serves various ecosystems with its multi-chain cross-chain capabilities. Taking cross-chain swap as a differentiator sets BitKeep Swap apart from its competitors.
BitKeep has recently launched V7.0 of its wallet app, supporting 40+ main chains, 50,000+ Tokens, 10,000+ DApps, and 1,000,000+ NFTs. Swap, a powerful feature from BitKeep, is the most popular service among BitKeep users. Shortly after the launch of BitKeep V7.0, the daily transactions of Swap exceeded 5 million.
BitKeep Swap is more than just Swap. It also includes Bridge, LaunchPad, and Quotes under its name. With 27 protocols, including SushiSwap, UniSwap, and ShibaSwap, integrated, ten cross-chain bridges like BitKeep Bridge, Multichain, and TerraBridge supported, the BitKeep Swap section also provides real-time intelligence of 20,000+ tokens/coins. With the multiple blockchain ecosystems of Ethereum, Solana, BNB Chain, Polkadot, etc., behind it, BitKeep has quickly become the world's largest cross-chain wallet with the functionality of a DEX. The transaction volume has increased by more than 50 times in the past six months, with DAU exceeding 150,000 and MAU surpassing 450,000.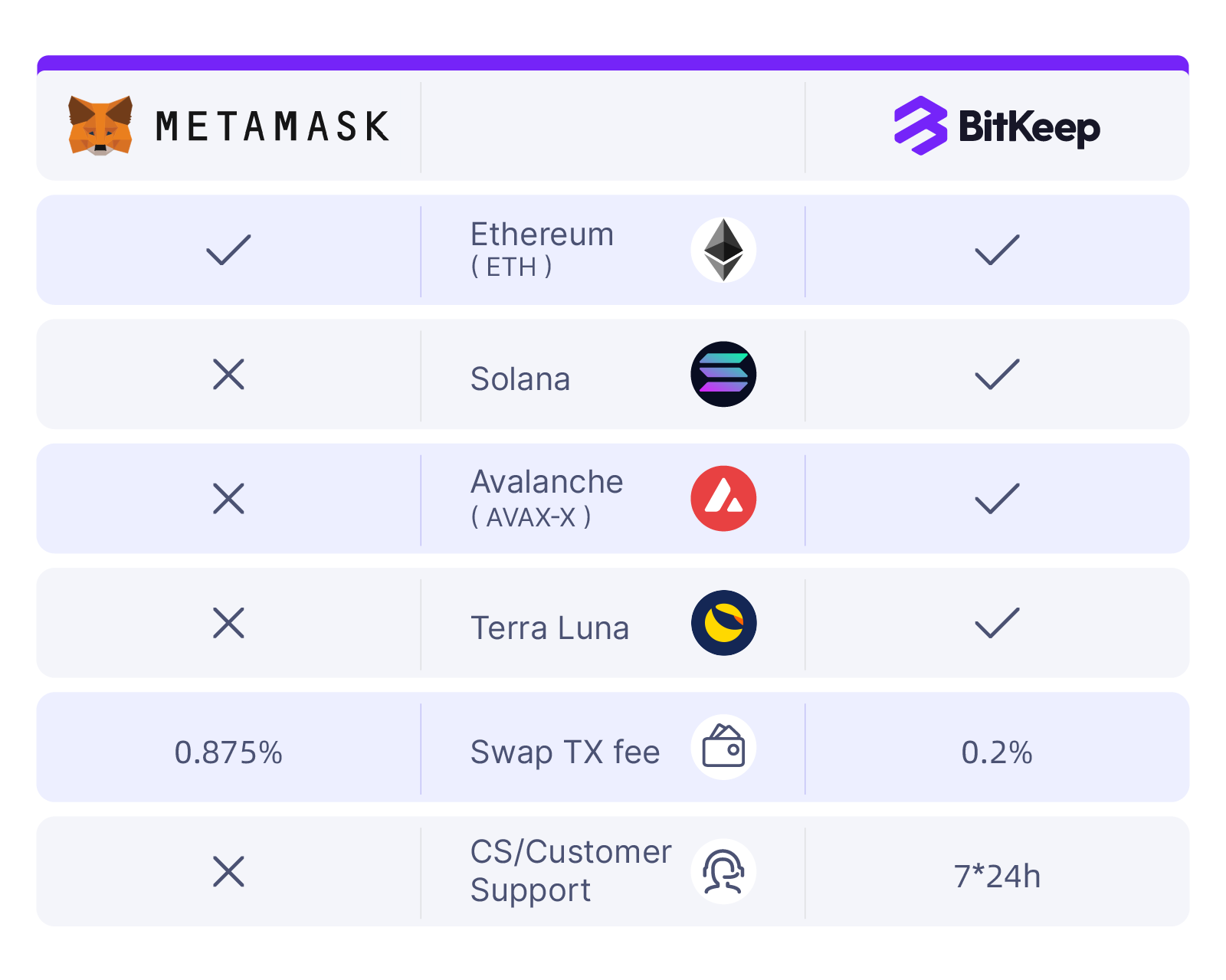 According to its website, MetaMask charges a service fee of 0.875% for each swap transaction, which is higher than other DeFi protocols. The rate of BitKeep Swap is 0.2%, less than a quarter of that of MetaMask. Although the final fee for a Swap transaction depends on various factors such as token price and transaction fees, MetaMask does not reveal the specific quotation source. At the same time, BitKeep displays quotation sources and details and provides 7×24 customer service to solve problems for users for the first time and protect the safety of their assets. The operation of BitKeep Swap is simplified to greatly reduce slip-ups. Other DeFi services are often complicated by design, which easily results in financial loss. And that's exactly why BitKeep Swap is favored by many users.
BitKeep Swap enables users to enter and interact with the Web3.0 world by building a one-stop solution.
The smooth and streamlined experience reduces friction for new users, allowing more people to join the Web3.0 world with ease. More importantly, it provides transaction and ecological support for other main chains in addition to Ethereum and its side chains, greatly improving the efficiency of each ecosystem.
The future of blockchain must be multi-ecological. Although it requires a lot of work and increases the complexity in terms of technicality, integrating new chains to the wallet is the inevitable trend for the development of the industry. At present, MetaMask supports Ethereum and Various EVM chains. While BitKeep, as the top wallet in Asia, has integrated ETH, BSC, Polygon, Solana, Avalanche, TRON, TerraLuna, and other global tops 40 Mainnets and ecosystems. Also, it will complete the transition from a closed organization to a community-based DAO to build a blockchain infrastructure with a multi-chain ecosystem at the core.
Contact BitKeep:
BitKeep website: https://bitkeep.com/
Twitter: https://twitter.com/BitKeepOS
Discord: https://discord.com/invite/gUQB7gUarR
Telegram: https://t.me/bitkeep
Facebook: https://www.facebook.com/BitKeep/
Instagram: https://www.instagram.com/bitkeep_global/
Youtube: https://www.youtube.com/channel/UCD2S03RS-Q08VdJqZpuOCFQ
Disclosure: This is a sponsored press release. Please do your research before buying any cryptocurrency.
The post BitKeep Accelerates the Market Carving-up, With Its Swap Share Reaching Half of That of MetaMask appeared first on NullTX.
Source: null tx