Bitcoin Spark (BTCS) is gaining traction in the crypto space due to its impressive attributes, including its fast transactions. Could this be the new Bitcoin?
What is BTCS?
BTCS is the native token of Bitcoin Spark, a Bitcoin fork seeking to usher in a new era of crypto use cases. The Bitcoin community upholds this new fork as it paves the way for fast transactions. Bitcoin Spark is capable of achieving high TPS (transactions per second) due to its reduced time per block and enhanced individual transaction capabilities per block. The network also has a massive number of nodes, which, combined with improvements in transaction speed, results in reduced gas fees.
BTCS real-life uses
BTCS will enable users to access a wide range of smart contracts and decentralized applications (Dapps). Bitcoin Spark will support diverse smart contracts and Dapps through a unique multi-layer design which will include separate execution systems that all reach finality on the main network. This unique design ensures scalability and enables developers to use different programming languages, including Solidity, Rust, and Vyper.
Additionally, users can acquire advertising services with the BTCS token. Bitcoin Spark will include small slots for ads on its website and native application, where advertisers will pay with BTCS. The adverts will be community-policied, with anyone holding an amount of BTCS being able to vote to remove an ad based on a number of issues, such as non-conformity to terms and conditions, scams, vulgar or NSFW, and hate speech. This ensures Bitcoin Spark is a trustworthy platform for advertising.
Moreover, organizations and individuals undertaking high CPU/GPU load tasks can use BTCS to access remote computing power. Bitcoin Spark introduces a novel consensus mechanism known as the Proof-of-Process (PoP), which rewards miners for validating transactions and contributing processing power to the network. The miners' processing power is then rented out as remote computational power through the network, and BTCS will serve as the payment currency for those using this service.
How to mine BTCS?
The Bitcoin Spark application will play a central role in BTCS mining before the network's repository is made public for developers to create their own mining applications. To mine BTCS, you will need to install the Bitcoin Spark application and permit access to your device's processing unit. The app will be compatible with Windows, Android, iOS, Linux, and Mac OS devices. Once granted access, the application will create an isolated virtual environment that doesn't interfere with any other part of the device to ensure security. It will also regularly adjust the processing power used to account for overheating, battery, and simultaneous usage needs. Nonetheless, you can still manually select the device resources used for mining.
With the simplicity of the application, you will be able to easily mine BTCS without needing to join a pool and dedicate a portion of your rewards to another entity.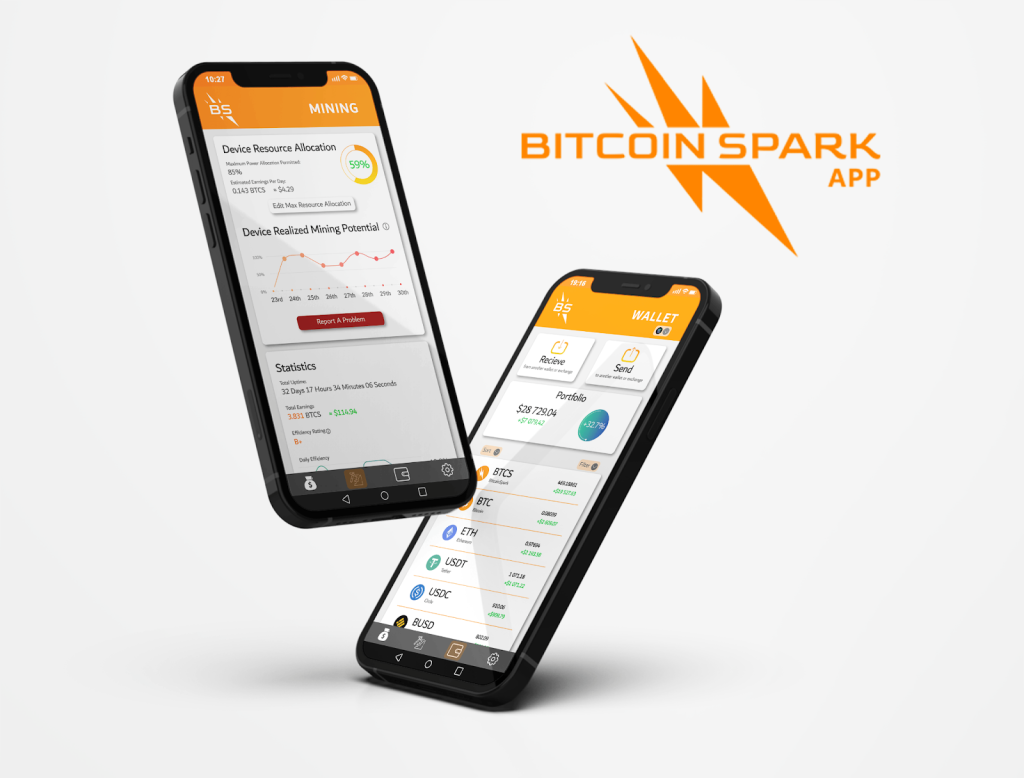 Miners will get newly minted BTCS and transaction fees in addition to the revenue generated from renting out their processing and 50% of the revenue from advertising. Thus, BTCS miners will be able to turn a consistent profit, regardless of market conditions.
Bitcoin Spark is offering a chance to get BTCS before its official launch through an Initial Coin Offering (ICO). The ICO has been progressing smoothly, with notable investments from crypto whales and positive reviews from crypto experts. Phase 3, which has BTCS priced at $2.00 and offers a 12% bonus with a guaranteed 560% increase, is quickly coming to an end. Investors are thus rushing to get these benefits before their amendment in Phase 4.
For more information on Bitcoin Spark:
Website: https://bitcoinspark.org/
Buy BTCS: https://network.bitcoinspark.org/register
Disclosure: This is a sponsored press release. Please do your research before buying any cryptocurrency or investing in any projects. Read the full disclosure here.
Photo by Sajad Nori on Unsplash
Source: null tx