The first Polygon Consensus Conference was organized by BitKeep, the world's largest Web3.0 multi-chain crypto wallet, and Polygon will be officially opened on May 1st, 2022.
BitKeep, as the recommended wallet of multiple mainnets, hopes that an increased number of users could learn about and experience the charm of Polygon Web3.0 through this conference. It will guide users to navigate an enriched Polygon ecosystem and provide users with the most secure and convenient entry to Polygon Web3.0. 
Polygon Consensus 2022 aims to link the Polygon ecosystem to demonstrate innovation on Polygon and build a blockchain-based multi-edged future of Web3.0. The Polygon team will share the latest technological progress and typical applications with global users and projects on the mainnet during the conference. The popular apps, such as QuickSwap, The Sandbox, Pegaxy, will deliver keynote speeches, and teams of Stargate, EasyFi V2, Aavegotchi, PolyStarter, and other applications will be fully engaged.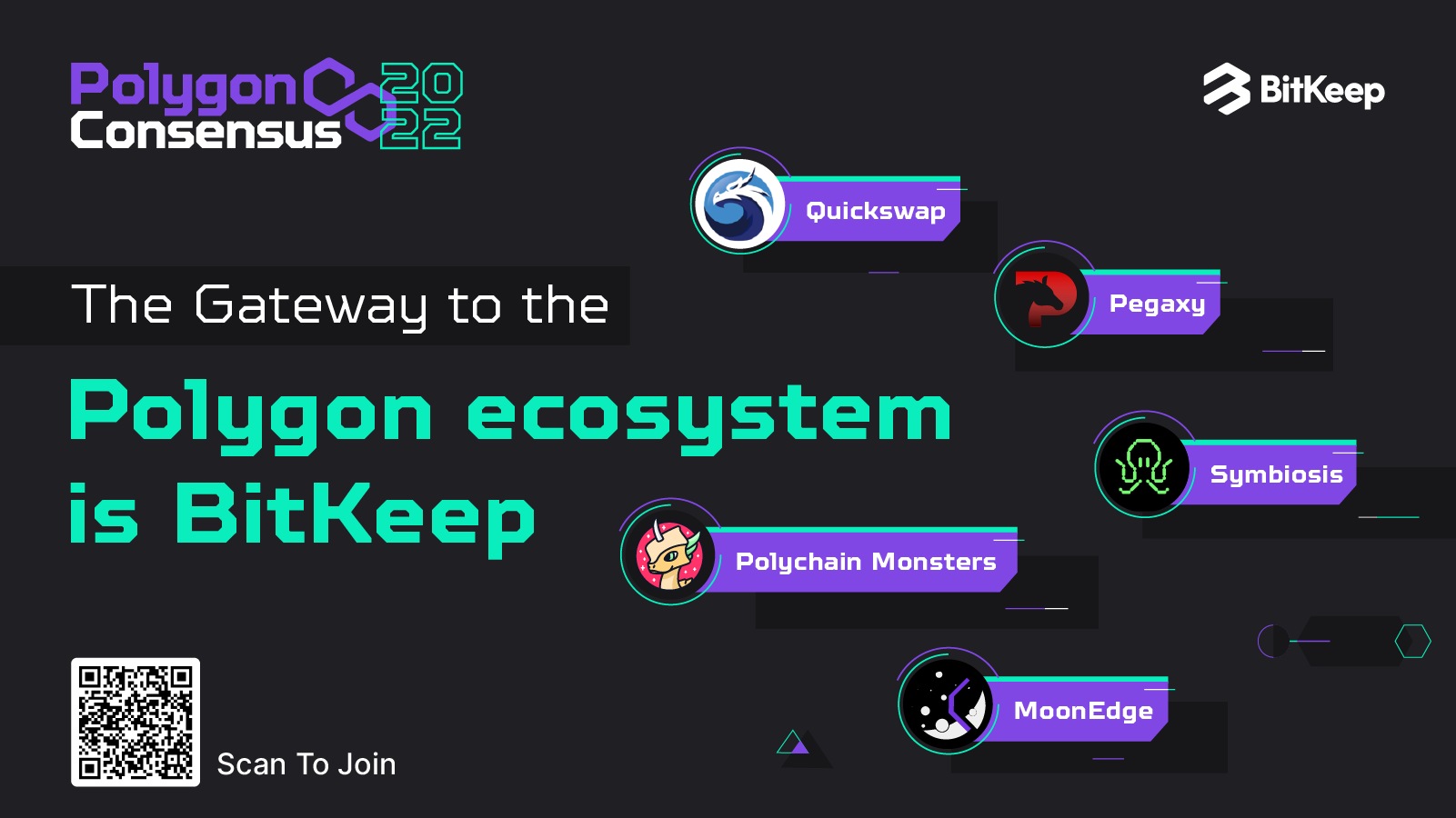 2022 marks the most important year in Ploygon's history. On February 8, the company raised $450 million in a round led by Sequoia Capital India and co-invested by SoftBank, Galaxy, Tiger, and Republic. The Layer 2 solution provided by Polygon has become one of the most compatible solutions for applications on the blockchain with its high scalability and minimal handling fee. Polygon has shortened the learning curve for both users and developers through its high compatibility with Ethereum. As of April 22, 2022, the TVL on Polygon hit 4.46 billion US dollars, ranking seventh and accounting for 1.96% of the whole market.
After 5 years of development, Polygon has become the mainstream blockchain infrastructure in the world. The number of daily transactions on the chain has reached 3 million with affordable gas fees — according to the latest statistics, the daily gas fee charged by Polygon is only about $30,000.
Since BitKeep integrated with Polygon, 62,000+ transactions to/from Polygon have been completed. During the first Polygon Consensus 2022, BitKeep users will get all gas fees that occurred to Polygon transactions refunded. With more than 220 DApps on Polygon accessible with BitKeep wallet, this handy app requires no plug-ins and supports gas-free transactions to help users to enter the world of Polygon Web3.0 with ease.
About BitKeep
BitKeep is the top decentralized multi-chain crypto wallet in Asia. It combines five sections, namely Wallet, Swap, NFT Market, DApp, and Discover. 
BitKeep Global Inc. was established in Singapore in May 2018. The company is now providing services to 6 million global users. With an original DEMS (Double Encryption Storage Mechanism) to safeguard users' transaction security, BitKeep has been a zero-security-incident crypto wallet since Day 1. 
Unlike common blockchain wallets which only support ETH and EVM sidechains, BitKeep has forged a strategic partnership with multiple top 30 mainnets (including BTC, ETH, Polygon, Solana, BSC, HECO, OEC, TRON, WAX, AVAX, Terra Luna, Near, Arbitrum), becoming their authorized wallet. With 40+ main chains, 10,000+ DApps, 1,000,000+ NFTs, and 4,5000+ tokens supported, BitKeep is dedicated to creating the world's largest Web3.0 gateway.
Contact BitKeep:
BitKeep website: https://bitkeep.com/
Twitter: https://twitter.com/BitKeepOS
Discord: https://discord.com/invite/gUQB7gUarR
Telegram: https://t.me/bitkeep
Facebook: https://www.facebook.com/BitKeep/
Instagram: https://www.instagram.com/bitkeep_global/
Youtube: https://www.youtube.com/channel/UCD2S03RS-Q08VdJqZpuOCFQ
Disclosure: This is a sponsored press release. Please do your research before buying any cryptocurrency.
The post Polygon Consensus 2022 Aims to Build a Multi-Edged Future of Web3.0 appeared first on NullTX.
Source: null tx