In 2020, Dogecoin became the darling of speculators when it shot from $0.003 to $0.7 within mere months. Created by Billy Markus and Jackson Palmer, forked from Litecoin, and launched in December 2013, Doge is leading the 'meme coin' movement. Some may consider it a joke, but the market seems to have taken Doge seriously, valuing the project at a $10 billion market capitalization.
Although Dogecoin started as a meme, the project has grown into a beast of its own. Elon Musk was one of the biggest reasons that Doge kicked off, and his support has sustained despite the bearish market sentiments.
Proponents of the project consider this a buying opportunity is given forthcoming developments and the discount Doge is trading at. Phemex, a Singapore-based exchange known for being careful with its listings to ensure a smooth experience for its community, recently listed Doge on its platform– making the project's token accessible to a 5-million-strong user base.
Pocket Rocket or a Doge-d Bullet?
Nine years after its launch, the number of unique addresses transacting the Dogecoin daily marked a high of 86,652 addresses on 9 March 2021. As of now, this number is just shy of 30,000. What's more, Dogecoin recorded a high of $1.03 trillion in transaction volume on 1 January 2019. Since then, the transaction volume for the token has been on a decline, currently sitting at ~$730 million.
Technical analysis experts view Doge at critical support of 8 cents with resistance at 11 cents. The Relative Strength Index has been hovering just above the oversold limit of 30, but as per the MACD, new volume not coming in means that there may not be any immediate respite.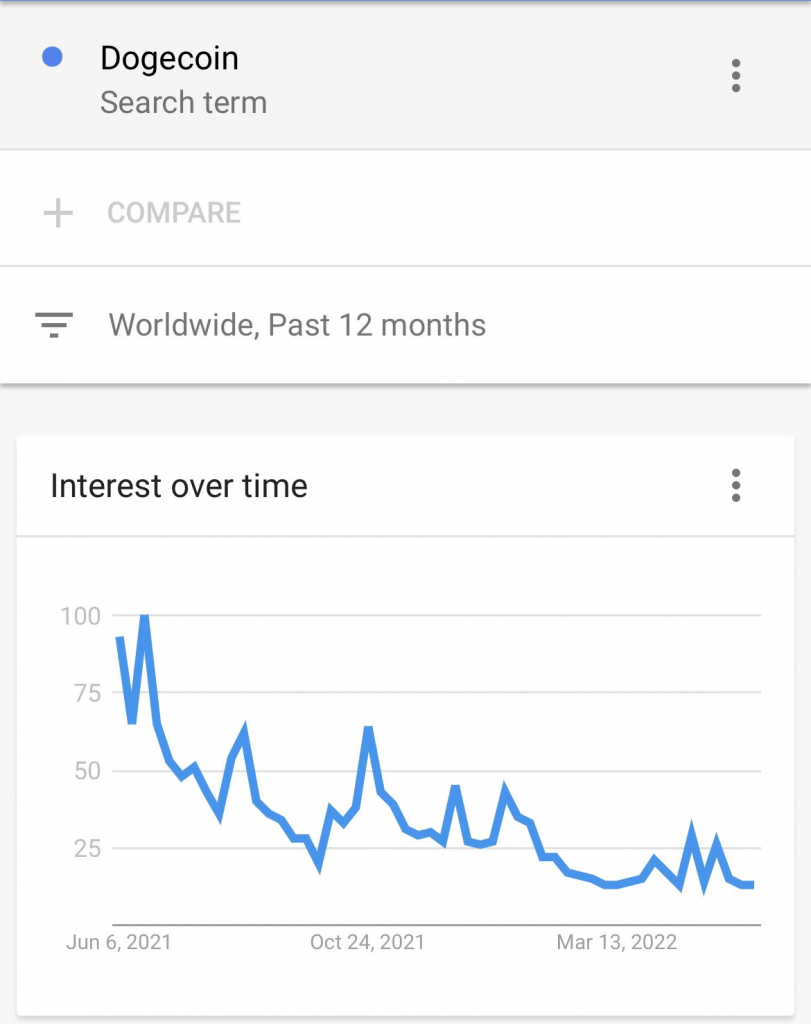 The downsloping moving averages and the RSI in negative territory suggest that bears have the upper hand. If the price decreases from the overhead resistance, the bears will try to sink the pair below the vital support at $0.06. If that happens, the selling could intensify, and the decline could extend to $0.04.
Social indicators for Doge are not very promising either. Billy Markus or Twitter's Shibetoshi Nakamoto commented about the declining social interest in the meme coin, remarking that it only gets exciting for everyone once the numbers go up.
Old Doge, New Tricks
While this may be an off-season for the star meme-coin, this is also when projects start producing multibaggers from investors just entering the space. From recent developments, the ecosystem is growing again – and rapidly too.
A plan to release the next version of Dogecoin Core has been introduced, with the upgrade estimated to go live this June. Among the various points shared through the v1.14.6 release plan, developers have drawn particular attention to the elimination of 'known Bitcoin vulnerabilities.' Developers believe this could enhance the overall security of the Dogecoin Core infrastructure.
Dogecoin is also making waves in political institutions! A Democratic Party candidate running for Senate intends to make Dogecoin legal tender in his manifesto. It's also one of the first projects to deploy on the new Polygon Edge, giving it more room to explore decentralized applications.
Elsewhere, Flexa, a fintech firm, announced Dogecoin's acceptance for payments by a Mexican fast-food chain. Elon Musk's Tesla also offers Doge as a payment option at supercharging stations.
Conclusion
Even in such market conditions, Dogecoin is building reach and utility, creating a solid bullish area under $0.08, under which recovery has always been swift. If you're looking into how to invest in Dogecoin, Phemex offers sub-millisecond order response times on top of fetching the best market prices, has a highly intuitive interface, and offers world-class custodial security.
The exchange also has a free educational portal and a stablecoin lending platform that offers steady returns on deposits. Serving over 5 million traders seamlessly, if SpaceEx starts accepting Doge for space travel, buying Doge on Phemex could literally take you to the moon!
Disclosure: This is a sponsored press release. Please do your research before buying any cryptocurrency or investing in any services.
The post DOGE to the Moon, or Not So Soon? appeared first on NullTX.
Source: null tx