The recent events surrounding Binance and Paysafe have emphasized the importance of adaptability and robustness in the industry. While some watchers suggest this could cause significant impact on crypto prices, the recent launch of Avorak AI provides a ray of hope for traders seeking ways to navigate the challenging volatility of cryptocurrencies.
Is Binance in trouble?
On June 29, Paysafe Payment Solutions announced plans to cease offering its embedded wallet solution to Binance across the European Economic Area (EEA) from September 25. The termination of this banking partnership has raised concerns about potential trouble for Binance's operations. While Binance has confirmed the news and acknowledged the need to find a new banking provider for euro deposits and withdrawals through the Single Euro Payments Area (SEPA), it has not disclosed any specifics about the replacement partner. However, the crypto exchange's spokesperson has assured that other fiat currencies' deposit and withdrawal methods and the buying and selling of cryptocurrencies on Binance.com are unaffected.
Is Binance Safe?
The decision by Paysafe comes at a time when Binance is facing regulatory scrutiny. The US Securities and Exchange Commission (SEC) filed a lawsuit against Binance for several allegations on June 5. However, contrary to the reaction in previous SEC investigations, where users withdraw large sums from the exchange, causing price volatility, Binance has remained resilient. Additionally, Binance entered an agreement with the SEC to ensure US customer assets remain within the country until the legal suit is resolved.
Moreover, Binance has numerous safety features in place for its servers, wallets, private keys, and software. Binance also created The Secure Asset Fund for Users (SAFU), an emergency fund to safeguard users against unanticipated challenges. Nonetheless, it is still essential to note that, like all online-based platforms, Binance is inherently vulnerable to cyber attacks. Users must therefore remain vigilant and exercise caution when engaging in crypto transactions.
Avorak AI: A new solution for crypto traders?
Avorak AI has quickly gained prominence within the crypto community as an advanced solution for traders seeking to mitigate volatility and enhance their trading strategies. The platform's cutting-edge AI trading bot, Avorak Trade, sets itself apart through its innovative and first-to-market features.
The Avorak Trade bot does a complete market analysis to gain a comprehensive understanding of the cryptocurrency landscape. The bot then identifies patterns and trends that impact cryptocurrency prices, and generates a selection of well-calibrated indicators and accurate price predictions. The integration of notification systems in Avorak Trade ensures that its users are constantly updated on market changes, enabling them to capitalize on emerging trends.
Avorak's trading bot also automates trades, adhering to predefined strategies and considering risk tolerance, prevailing market conditions, and individual user preferences. This automation not only facilitates faster execution but also removes emotional biases from trading, leading to more profitable outcomes. Additionally, the Avorak Trade bot is programmed with a non-code command-line script. For example, 'In my Binance spot account, when ETH reaches $2300, buy 4.5 ETH.'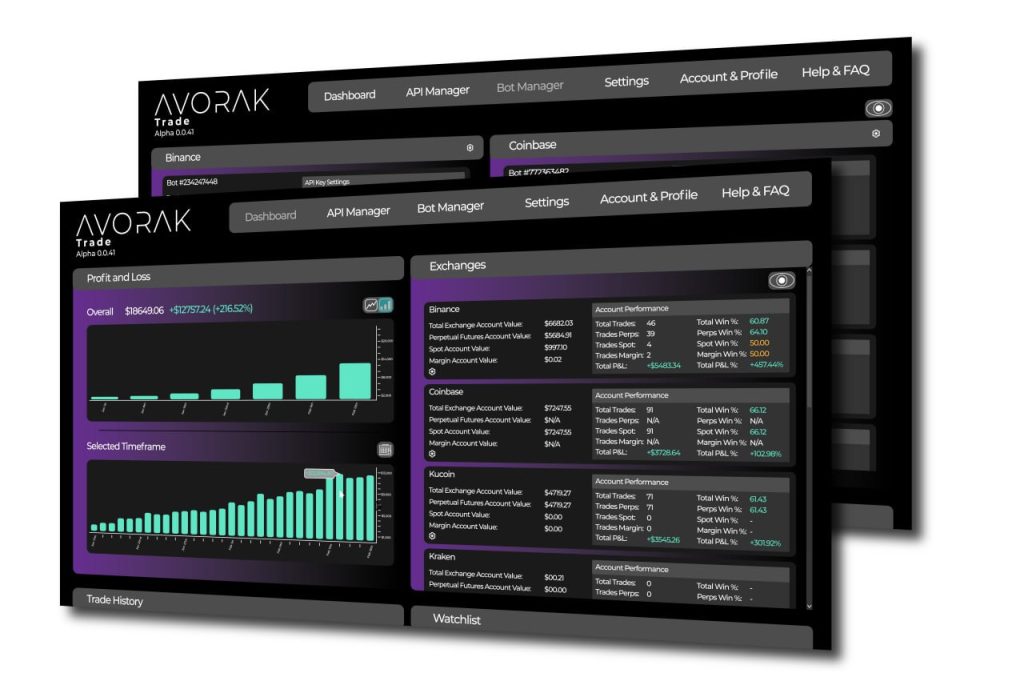 AVRK is the native token of the Avorak AI  ecosystem and is required to access its trading bot. The project was launched on July 17th after a successful ICO run, and AVRK is available on several crypto exchanges, including PancakeSwap, Coinsbit, and Azbit.
The Avorak Trade bot underwent a beta test, with reports of significantly profitable trades. The advanced analytics, real-time monitoring, and automated trading capabilities of Avorak Trade, coupled with its ease of use and security, enables traders to navigate the dynamic and volatile crypto market with increased confidence and precision, enhancing their trading experience and potential for success.
For more information on Avorak AI:
Website: https://avorak.ai
Buy AVRK: https://invest.avorak.ai/register
Disclosure: This is a sponsored press release. Please do your research before buying any cryptocurrency or investing in any projects. Read the full disclosure here.
Source: null tx